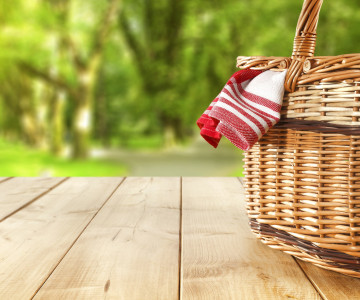 More Al Fresco, Less Al Desko!
Summer comes but once a year, so be sure to make the most of it. In this blog post, we're going to give you the run down on how to pull off the perfect al fresco feast; all at a moment's notice. You see, when it comes to the British weather – time is of the essence. What can start off as a sunny morning, can transform into a drizzly one in a moment's notice. So, without further ado, read on to find out how to make hay whilst the sun shines.
A Stitch in Time…
Like the Scouts say: always be prepared. This is especially true when it comes to dining outdoors, it's important to keep your garden furniture in good condition – after all it's no good discovering that your garden table is in the loft and to make matters worse, only has three legs!
Keep Your Fridge at the Ready
You don't have to make special plans to eat al fresco – just keep your fridge well stocked and when the weather arrives, you'll be able to get your family outside in a flash!
We recommend our Best of Local range, where you'll be able to find products to keep your fridge stocked, ready for that bit of sunshine you've been waiting for. We've got everything from croissants for a breakfast enjoyed outdoors, to everything you'll need for a cheese board to round off a dinner with friends.
If you're looking for a bit of inspiration in terms of what to make, you're in the right place – just head over to our dedicated recipes section where you'll find all sorts of meal ideas, for all times of the day. Oh, and best of all, they all taste good served inside and outside - buon appetito!
Share This
Related Posts