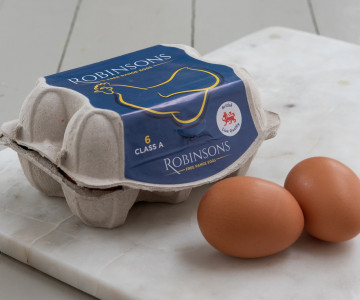 Meet the Producer: Richard Robinson, Robinsons Eggs
Richard Robinson is the Owner and Managing Director of Robinsons Eggs, producer of high-quality, free range and organic eggs. We spoke to Richard about the history of Robinsons, why he's committed to free range, and his proudest moment (so far!)
Tell us a bit more about Robinsons Eggs 
Robinsons have been producing eggs since 2008, although the family farm has been running for over 20 years! We're proud to produce, grade, and package our eggs ourselves. All our eggs are free-range, and we're delighted to now offer free range organic eggs too!
How is life for the chickens at Robinsons Eggs? 
I strongly believe that happy chickens produce the best eggs, so our hens' quality of life is of high priority.  To produce our organic eggs our hens are kept in small flocks in heavily wooded areas of the forest. They also enjoy a diet that is naturally organic and free from antibiotics and pesticides. By taking good care of our hens, they can then produce the highest quality eggs.
What do you love most about your job?
Being based in the beautiful Forest of Bowland is certainly a plus! However, having happy customers is what I love most. At Robinsons, we aspire to maintain long-lasting and positive relationship with our customers, so it's fantastic to know we deliver free range eggs of the highest quality.
What's been your proudest moment at Robinsons Eggs?  
Personally, my proudest moment was watching my eggs being cooked by James Martin on television!  For the business, however, a big milestone for us was gaining the British Lion Code of Practice Certification. The British Lion scheme is the only egg-specific assurance scheme in the UK and our certification means our eggs meet the highest standard of food safety.
Why are Creamline and Robinsons Eggs such a good fit?  
Creamline and Robinsons have a lot of similarities; we're both long-established companies that are passionate about food that's produced and delivered locally. We also care greatly about the welfare of the animals behind our products, so we're glad to know Creamline also prioritises this. 
Where do you see Robinsons in the future?

We're a long-running company, and I'm proud of everything we've achieved so far. Looking to the future, I'd like to see Robinsons established as the best local supplier of a good egg!
Share This
Related Posts