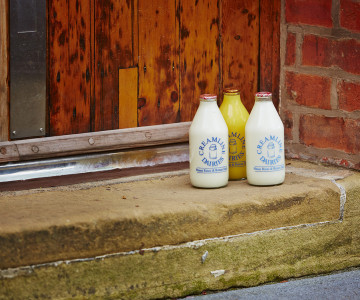 Love is in the Air!
With not long to go until Valentine's Day, we're getting you ready for the occasion with a few romantic recipes, so you can treat your significant other. First though, we've got some interesting facts about how people in other countries across the world celebrate the day and love – so you can appear that bit more cultured over the dinner table!
·         Africa: South Africa – It's traditional in South Africa for women to write the name of their love interests on paper, cut it out then pin it to their sleeves. Talk about wearing your heart on your sleeve!
·         Americas: Mexico – It's traditional in Mexico for men to go to the house of the women they want to express their love to with a Mariachi band, where they will gather by the window to play the songs of love; with the aim of winning over their lady.
·         Asia: Philippines – Valentine's Day is a big day in the Philippines and as a result, a lot of couples chose it as their wedding date. Churches and other wedding venues are often completely booked up on Valentine' Day for years in advance, so instead of waiting for years – Filipinos have instead opted to go for large scale, mass weddings with many different couples tying the knot on the same day!
·         Europe: Denmark – Men give women a gaekkebrev on Valentine's Day in Denmark: this is a funny poem or rhyme written on decoratively cut paper and signed anonymously. Women who receive a gaekkebrev have the opportunity to take a guess on who sent it, if they get it right, it means the sender must give them an Easter egg later in the year.
Romantic Recipes
Now you're armed with knowledge, you just need something to cook for the big night... Read on, as we've got the perfect three course meal you can cook at home, meaning you can skip the hassle of restaurant reservations and enjoy yourself:
·         Grilled Asparagus & Poached Egg on Toast – This Healthy recipe is a fantastic starter that only takes a few minutes to assemble, leaving you plenty of time for your other courses.
·         Skinny Carbonara - Here's a fresh and healthy twist on a classic carbonara featuring almonds and peas – don't worry though, it's still got the smoky bacon!
·         Crema Catalana – We all know crème brulee but let your taste buds venture further south to try it's Iberian cousin. The main difference between the two is that crema catalana is made with milk rather than cream and includes cinnamon.
Share This
Related Posts