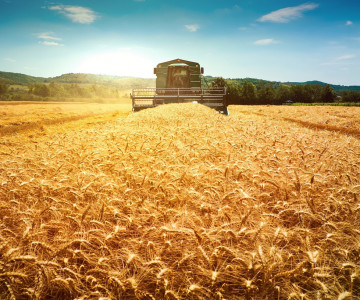 Looking ahead to the Harvest Festival
At Creamline, the Harvest Festival is something we look ahead to as a celebration of a new season's delicious produce. The Harvest Festival is one of the oldest British traditions, celebrated since pagan times. Harvest Festival coincides with the Harvest moon, the full moon that occurs closest to the autumn equinox.
Seeing as the festival has been celebrated for so many centuries and across so many countries, it's no surprise that traditions have evolved over the years. In the past the Harvest Festival was celebrated at the start of the harvest season on the 1st August, and was called 'Lammas', meaning 'loaf Mass'. Traditionally farmers would make loaves of bread from their new crop and donate them to churches, to be used for Communion - to thank God for their fruitful harvest. There would also be a big feast, featuring a goose and fresh vegetables from the harvest, all shared among family and friends.
This year the Harvest Festival will take place on Sunday. Whilst many of the traditional aspects of the Harvest Festival are still in place, nowadays the harvest is not typically celebrated with a big feast. Instead, harvest celebrations include Farmers Markets, harvest-themed games like apple-bobbing, crafts, farm animals, live music, as well as various farming demonstrations. All leading to a perfect day of family fun! There have been many Harvest Festivals held around Manchester in the past and this weekend the fun continues with Chorlton Harvest Festival at the Chorlton Unitarian Church, as well as a Harvest Service taking place at Manchester Cathedral.
Why not browse our huge range of fresh fruit and veg here, and our range of fresh bread lovingly made by Thatcher's Bakery to get a taste for all the yummy offerings this harvest season has brought!
Share This
Related Posts