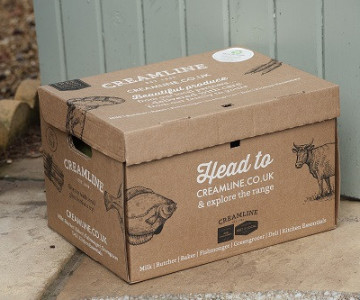 Local milk delivery helps dairy industry be eco-friendly
Many of us are increasingly environmentally minded, and local milk delivery is one way for you to make your own contribution to cutting carbon emissions.
At Creamline we are proud to work with local dairy farmers within a 30 mile radius of our dairy in Eccles, so by the time it arrives on your doorstep, you can be confident that your bottle milk has clocked up the fewest 'milk miles' possible.
Most of our local household deliveries are delivered on electric milk floats, and our milk is put into reusable, washable glass bottles. Our poly bottles are made substantially from recycled polymer which are themselves recyclable.  

This is all part of the dairy industry's overall work towards cutting its carbon footprint and energy usage - something it has achieved beyond all expectations.
Creamline has been part of the Dairy Energy Savings Scheme that has achieved the CO2 reductions and efficiencies.  We have invested heavily in more energy efficient equipment, insulation, process optimisation and will continue to do so.
At the recent Dairy UK Annual Dinner in London, chairman Billy Keane noted how, in the past year, the UK dairy industry reached its target of a 15% improvement in energy efficiency compared with 2008, some five years ahead of the official schedule to do so.
Share This
Related Posts