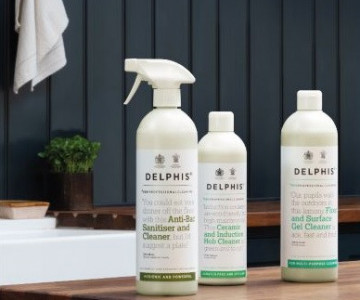 Introducing Delphis – plant-based cleaning products, approved by the planet
At Creamline we're passionate about championing the best of Britain, which is why we're delighted to announce we're stocking a new range of cleaning products that embody this ethos, available for delivery straight to your doorstep.
Introducing Delphis - environmentally friendly, plant-based cleaning products that are 100% made in the UK. What's not to love?
Ethical and eco-friendly, the Delphis range is something special. There are eight fantastic cleaning products available to Creamline customers in our Daily Essentials range.
Manufactured in the UK, the product range includes washing up liquid, hand soap and all you need to tackle your kitchen and bathroom, with hob and bathroom spray. Best of all, all of Delphis' products are never tested on animals and stored in 100% recyclable plastic packaging, making them ideal for cleaning warriors and eco-warriors alike.
EXPLORE THE RANGE, STOCKED BY CREAMLINE
Anti-Bacterial Kitchen Sanitiser Spray
This spray can be used on all areas of the kitchen from worktops to appliances to sinks and more, killing 99.99% of bacteria. Buy here.
Anti-Bacteria Hand Soap
This gentle hand soap kills 99.99% of germs and bacteria, without drying out your hands. The plant-based formula is as kind to the environment as it is to your hands. Buy here.
Bathroom Spray
This Bathroom Spray easily cuts through limescale and dirt to provide an outstanding clean. Buy here.
Ceramic & Induction Hob Cleaner
This superb, non-scratch formula cuts through grease and provides your hob with a long-lasting clean. Buy here.
Floor & Surface Gel Cleaner
Perfect for cleaning a variety of surfaces and floors, this powerful gel leaves a light and fresh, citrus scent. Buy here.
Limescale Remover
Specially formulated to remove heavy limescale, stains and rust, leaving your bathroom sparklingly clean. Buy here.
Toilet Cleaner
Safe to use on chrome, enamel, and more, the formula offers a concentrated clean and leaves a fresh citrus scent. Buy here.
Washing-up liquid
Ideal for tough stains, the natural, plant-based formula makes washing up a breeze. Buy here.
Share This
Related Posts