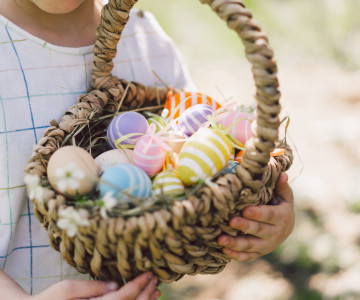 How to throw an epic Easter egg hunt, featuring Slattery eggs!
With Easter rapidly approaching, we've compiled our top tips on how to throw an epic Easter egg hunt that'll keep the kids (and adults!) entertained over the long weekend.
Choose the location wisely
Pulling off the ultimate Easter egg hunt starts with the location. Opt for an area that gives your hunters enough ground to cover, but not so much that the eggs are impossible to find. Striking a balance between indoors and outdoors opens up your Easter egg hunt to a variety of nooks and crannies for chocolate-based treasure, so make sure to include the garden in your trail!
Or, if you're looking for a fun-packed day out with the family over the Easter holidays, look no further than the many Easter egg hunts taking place around Manchester this month. Explore the trail at Dunham Massey with many nature-inspired activities for the whole family, enjoy the fresh air at Heaton Park's egg hunt or make your way to Reddish Vale Farm to find the 'golden egg' and claim a special prize (including cuddles with the farm's rabbits and guinea pigs).
Get creative with Easter baskets and buckets
While you won't find an Easter egg prettier than Slattery's hand-decorated pink speckled milk chocolate delight, you won't find a sweeter basket with these crafty ideas.
This adorable paper Easter basket from The House That Lars Built is great if you're hosting a big group as they're surprisingly easy to weave and they're recyclable – for reduced plastic waste this Easter!
Standard baskets are also great but why not spruce them up with some scrunched tissue paper or pom poms for a pop of Easter colour and whimsy fun?
Finally, if you're feeling adventurous – and ready for some chocolate – transform your baskets into an edible treat with Slattery callets! These Slattery Strawberry Chocolate Callets are not only delicious, they're also incredibly versatile! Grab some edible cake glue from the supermarket and stick the callets to the handles for a unique and tasty approach.
Stock up on eggs
The best part of the Easter egg hunt is stocking up on eggs, and the Creamline Easter bunny has a treat for you this year! Our Easter egg aisle is chock full of chocolate treats from Manchester's favourite family chocolatier, Slattery.
This crowd-pleasing Dinosaur Chocolate Egg will go down a treat with family and friends. Smash open the egg and transport back to a chocolatey Jurassic era, with surprise milk chocolate hatchlings waiting inside!
Or get your eyes on the prize with Slattery's Chocolate Orange sensation. Bursting with milk and orange callets and jelly orange pieces, this delicious egg takes the top spot for Easter egg hunt rewards!
Complete your line-up of colourful chocolate treasure with Slattery's Pink Speckled Easter Egg. This egg is beautiful inside and out with hidden milk chocolate callets.
Finally, Easter isn't complete without the Easter bunny. Make sure she makes an appearance on your trail – in chocolate form!
Hide your eggs and get ready to hunt!
Now it's time to hide your eggs. We recommend dotting about smaller foiled chocolate eggs for the hunt and the bigger eggs as the end reward for the hunters. Each year it's a challenge to come up with unpredictable and exciting hiding spots, so read on for our creative ideas.
Starting in the house, blend your eggs in with the fruit in your fruit bowl or disguise them inside an egg box in the fridge for an egg-spert level hiding spot. Hide eggs inside shoes, slippers and pockets – or in the hood of one of the participants if you're feeling devious! Placing an egg atop an ajar door is also a great way to fool avid Easter egg hunters. Don't forget to place eggs at different eye levels if you've got kids of different heights participating!
If you're too good at hiding spots, make sure to write down the places the eggs are hidden to avoid encountering puddles of melted chocolate in the summer!
Taking the hunt outside, a flower bed is an egg-cellent place to hide colourful eggs among similarly coloured flora. Make your hunters traverse the natural elements and bury eggs among branches and bushes or sneak an egg inside a tactically placed set of gardening gloves.
Ready, set, hunt
By now, you're set to begin the ultimate Easter egg hunt. We hope you have a wonderful Easter weekend packed full of delicious treats! Continue your Easter feast with our full range of Easter fare here.
Share This
Related Posts