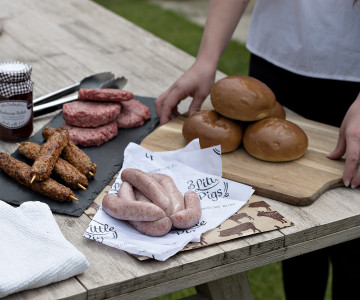 How to prepare for the perfect BBQ
The perfect BBQ starts before the meat even hits the grill. Perfecting the art of BBQing is no easy feat, but by following these crucial preparation tips, you'll be on your way to becoming a BBQ aficionado.
Just in time for BBQ season, we've created a delicious six person selection of family favourite meats, prime for searing and sizzling on your grill.
Choose the right BBQ
The first crucial step to perfecting your BBQ prep begins with the grill itself. When picking out a BBQ, you'll want to opt for charcoal over gas. Charcoal burns hotter than gas, leaving your meat with the signature smokey BBQ flavour that you can't replicate with a gas cooker. The second non-negotiable is a lid! Without the lid, only the surface of your meat is getting cooked, which can mean trickier cooking. With lid down, the heat is evenly distributed and temperature is kept constant – plus, flavour is locked in, meaning your marinating efforts won't go to waste!
Get the right fuel
Getting the right fuel puts you ahead of the BBQing competition! For high heat searing and grilling and adding the most flavour, lumpwood charcoal wins out over briquettes or supermarket-bought charcoal bought in a panic. Though lumpwood charcoal burns quicker than other options, this is in fact a good sign as it means the charcoal is unadulterated and natural!
Add lumpwood charcoal to your next Daily Essentials order to get prepared for when the sun next peeks out – delivery's on us!
Use only high quality meats – and don't forget the fish!
Whether you're putting beef, chicken or pork on the barbie, you'll want to make sure only the highest quality cuts see the sizzle. Our Prime Beef Burgers are a real crowd pleaser at family BBQs, made from selected cuts of locally sourced prime beef mince and seasoned with a touch of salt and pepper by the experts at Little Pigs Didsbury. For a fiery twist, our Chilli Beef Burgers will go down a treat with spice lovers, while our Lamb & Mint Burgers are a superb alternative, and just as premium-tasting.
Fish and smoke are a great match. Our fabulously fresh Fish Kebabs of tuna, swordfish, salmon, cod and king prawn, are beautifully prepared by our local fishmonger and ready for cooking, which means no fuss before they make the grill.
Share This
Related Posts