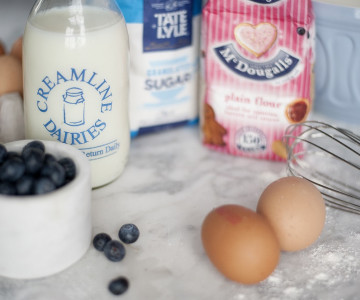 Have a flipping good Shrove Tuesday!
Time to break some eggs and get into the spirit of Shrove Tuesday! With this year's Pancake Day falling on 13th February, it will be crepe-ing up on us before we know it.
Why do we celebrate?
Shrove Tuesday is a traditional feast day for Christians before the start of Lent, historically a time of fasting in the lead up to Easter. In culinary terms, the reason we cook up pancakes on this day is because it was the last chance to use up any eggs or fats before starting to fast for Lent.
Whisks at the ready!
Here at Creamline we've a recipe for pancakes that won't disappoint! Follow this step by step guide to avoid a flop on the 13th.
Ingredients

2 eggs
2-3 bananas
300ml whole milk
1 tbsp honey, plus extra for serving
225g plain flour
1 tbsp baking powder
A drizzle of oil or butter, for cooking

Method

1) Whisk the eggs in a bowl until blended. Peel and puree one of your bananas and add it to the egg mix. Cut the remaining bananas into thin slices and set aside.
2) Now add the milk and honey to the banana/egg mix.
3) Sift in the flour and baking powder. Gently fold through to create a batter consistency.
4) Heat a large frying pan and add a little oil or butter. Add a ladle of the batter mix to the pan then add 3-4 banana slices to the uncooked side of each pancake.
5) Once you can see bubbles forming toward the centre of each pancake and it starts to set on the bottom, flip it over and cook it until it's golden on the banana side.
6) Keep the cooked pancakes in a warm oven while you finish the batch. Serve with butter, honey and extra slices of banana on top.
It just gets batter and batter
This year, we'll be offering a special pack of pancake ingredients to our lovely customers, so you can get a delicious Shrove Tuesday treat in the bag. We'll have two packs available; the classic, with lemon and sugar, and a real treat with Nutella, both at £3.75 each. Keep your eyes peeled to get your hands on these tasty treats, coming to the website next week!
Share This
Related Posts