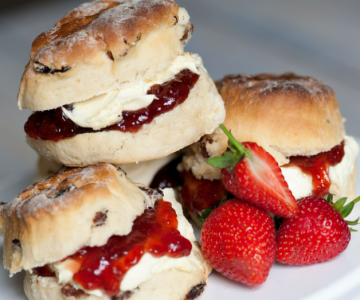 Get the Par-Tea Started this Afternoon Tea Week
It's the perfect excuse to sit down and celebrate a traditional British pastime…Afternoon Tea Week is back, running from the 9th – 15th August.
The popular tradition of taking afternoon tea dates back to the 1880s, when a close friend of Queen Victoria, the 7th Duchess of Bedford, complained of 'having that sinking feeling' during the late afternoon. And the ritual of taking afternoon tea was born – with something small to see you through until dinner time. Nowadays afternoon tea is thankfully enjoyed by all, not just the upper-class. And isn't just a small serving but a big celebration to share alongside friends and family.
Delicious treats, delivered to the door
Helping you celebrate in mouth-watering style, Creamline has created a collection of afternoon tea treats for the occasion. Delivered to your doorstep, you'll be the host with the most.
From delicious baked cakes and scones to Mrs Darlington's preserves and a choice of local teas & coffees, our range is something special.
Our 3 must haves, for an amazing afternoon tea
1. Scrumptious sweet treats
We work with some brilliant bakers, including Stockport's Thatcher's bakery and Didsbury's SLAB. These people know how to bake!
The range includes flapjakes, a selection of scones, sticky toffee slices and orange & pistachio polenta.
2. Beautiful brews
Are you a fan of traditional breakfast tea? Prefer Earl Grey, or love a fruity herbal tea instead? We've got just the thing to make sure you have the brew to suit you, including a decaffeinated option. All locally produced by companies that know their stuff.
3. Cream tea
The perfect treat this summer, with a super saving to be had. This Creamline cream tea bundle includes everything you need for an indulgent serving: Sultana Scones x 4, Mrs Darlington's Strawberry Jam 340g, Cheshire's Clotton Hall Dairy Clotted Cream 113g and beautifully fresh strawberries 400g.
Browse the full afternoon tea range HERE
Share This
Related Posts