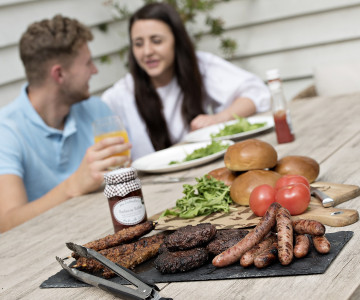 Get the grill fired up, it's almost the bank holiday weekend!
The long weekend is just around the corner and, with lockdown measures continuing to ease, now is the perfect time to celebrate! The weather outlook is looking (tentatively) good for the north west, so to help you make the most of it, we've put together everything you'll need for an unforgettable barbecue (with a little help from our local suppliers of course).
Barbecue staples
What's a barbecue without burgers and sausages? For the best of the deliciously fresh produce expertly prepared by Little Pigs Butchers, look no further than our Spicy Chili Beef Burgers and Spatchcock Chicken.
Want to keep it simple? You can't go wrong with the Barbecue 6 Pack Selection. Our personal favourites are the lamb and mint kebabs, which add a little flair and a whole lot of flavour!
Green and fresh
Ahh salad – the unsung hero of a great barbecue! Through our Greengrocer range, you can enjoy salad essentials delivered straight to your door. Best of all, all our produce is sourced locally, meaning that every juicy tomato and crisp cucumber will arrive at your door fresh and full of flavour.
Don't forget!
We've all been there; cooked a burger to absolute perfection, only to find there aren't any buns! Luckily, you can find brioche buns, cheese and a whole selection of barbecue treats as part of our Best of Local range. Why not add Mrs Darlington's Spicy Tomato & Sticky Onion Chutney to your burger for an extra punch? Or have a browse of our variety of chutneys and dressings to make your barbecue truly your own.
We'd love to see snaps of your BBQs – be sure to share with us on Facebook, Instagram, or Twitter!
Share This
Related Posts