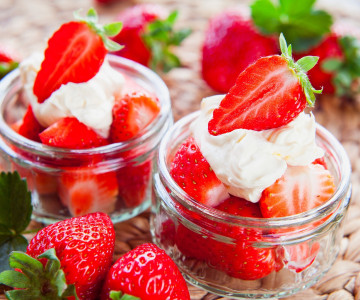 Get Productive in the Workplace with Healthy Snacking
Here at Creamline, we're all about healthy eating. We like to get behind initiatives like 5 a Day in the UK and we're always interested to find out more about what other countries do: we've recently been taking a look at the Eat the Rainbow campaign that's gaining traction in Australia and the US.
Going hand in hand with our healthy eating ethos, there's been quite a bit of research and news over the past few years about the benefits of healthy snacking – not just on the body but on the mind too. Join us as we look at some of the many benefits of swapping your crisps for cherries or your pie for a peach!
Google It – Google as Case Study for Healthy Snacking
Google are well known as a company with a lot of interesting and experimental workplace features such as onsite hairdressers and nap pods. One of the slightly less experimental is the availability of free healthy food across all their company premises; open to all workers. We're not just talking about the usual canteen setup here, familiar to many workplaces. At Google offices, this extends to include many micro food areas dotted all over– meaning that employees are, in the words of co-founder Sergey Brin, "never more than 200 feet away from food".
What to Choose?
When it comes to healthy snacking, we've got loads of healthy options here at Creamline: so, if you're spoilt for choice then read on…
·         Need a snack to keep you going? Our fresh avocados are full of healthy fats, making them great for endurance. The high-energy density of fat means that the body has loads of fuel to keep the brain and other organs powered up throughout the day.
·         Want something low in calories? Carrot sticks are quick and easy to make from our fresh carrots, plus they're very low in calories. A few carrot sticks dipped in a yoghurt dip make a filling snack with loads of fibre, that's friendly on the waistline too.
·         Quick energy boost? If you're working to a tight deadline or just need a bit of help to keep you working at peak performance until the end of the day; why not try a quick citrus fix? An orange or grapefruit is a tasty way to get some fast release energy into your system. That's not to mention all the healthy vitamins they contain too.
Share This
Related Posts