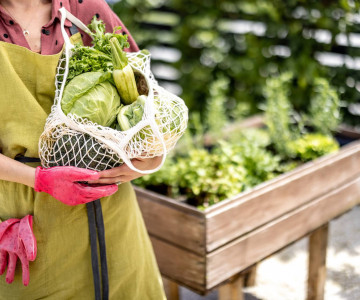 Gardening your way to a longer summer
It may be August (already!) but there's still plenty of summer left to enjoy and that includes getting busy in the garden. There's still plenty of veg to plant (and lots of weeds to pull out!) in time for autumn. Read ahead for some veg patch inspiration!
Sowing leafy veg goes a long way
In a list of veg to plant in August, you'll find a plethora of leafy greens! Don't be fooled by lettuce as it's hardier than its looks – it can be sowed in August and ready to be harvested after 30 to 70 days based on your individual preference. Lettuce can be overwintered, ready to be harvested from April to June if kept in a greenhouse.
Like lettuce, spinach will gift a patch of young leaves in October if planted in late August. Though it's hardy like lettuce and can handle frost and rain, spinach will enter dormancy over winter. Come early spring, it will offer a fresh crop of leaves. Did you know that spinach in fact belongs to an entirely different family of veg?! Whereas lettuce belongs to the daisy family, spinach is part of the Amaranth family to which beetroot, chard and mangel wurzel belongs.
Rocket is also a great option to sow in August, sprouting a crop of leaves before winter before lying dormant until March. A little tip from Gardeners World: for the best chance of surviving frosts, sow your rocket in late August.
If you're looking to maximise your space on a patio, balcony or in a greenhouse, Durstons grow bags are the perfect solution and provide a rich and nutritious soil for healthy growth bags – grab your pack of three here.
Stock up on grow bags to get going!
Keep your garden in tip top shape
A good base is key to any flourishing garden – and with that comes all-important good compost! Durstons multipurpose compost is suitable for all uses in the garden, containing a blend of nutrients which keep your garden in good health. We've also got your decorative needs covered with Durstons landscape mini chip bark. Cover your beds, borders and pathways with this bark to keep out pesky weeds, retain soil moisture, protect plant roots from frost in the coming colder months and make your garden look decorative!
Explore our full garden range here and simply add your essentials to your order and we'll take care of the heavy lifting. 
Share This
Related Posts