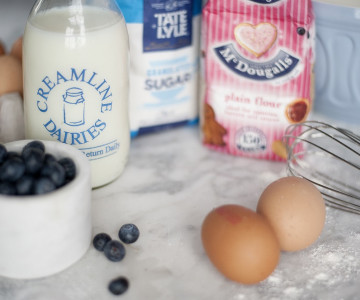 Find out how we're celebrating Breakfast Week…
This week is Farmhouse Breakfast week (24th – 30 January) and because we're all about starting the day on a good footing, we're celebrating all things breakfast. Whether it's the refreshing cold splash of milk on your corn flakes or a tasty fry up: we've got breakfast covered.
Meet the Milkman
We're having quite the celebration to mark the occasion. We're going to be hosting one of our popular Meet the Milkman assemblies with children's favourite Jon Ryan at Urmston Junior School. He'll be showing our video about how milk gets from the farm to the cereal bowl, made in conjunction with kid's TV presenter Olivia Birchenough. Of course, we know that grown-ups love to have fun too, so we're giving children the chance to win their whole family a Creamline hamper by participating in a poster competition.
#BreakfastWeek
We know how exciting competitions can be, so we're giving our social media followers a chance to win a prize too. We're going to be packing a hamper with all the ingredients for a perfect fry-up and we'll be delivering it direct to the doorstep of the lucky winner.
To spread how important a healthy breakfast is, we're going to be spreading our specially made infographic which inform people about the nutritional principles of breakfast with facts about some common breakfast foods.  Keep your eyes on our Twitter page and listen out for our tweets (not of the feathered kind!) https://twitter.com/CreamlineDairy
What's for Breakfast?
It's not a good feeling to not know what to have for a meal: picture the scene - the day is beginning, you're in the kitchen but your brain is still mentally tucked up in bed.
To help you kick start the day with a brilliant breakfast, we've linked up with award winning chef Nigel Brown to create healthy breakfast recipes that won't turn your morning into mayhem! Get inspired by heading over to the Creamline recipes section now: http://www.creamline.co.uk/recipes
Share This
Related Posts