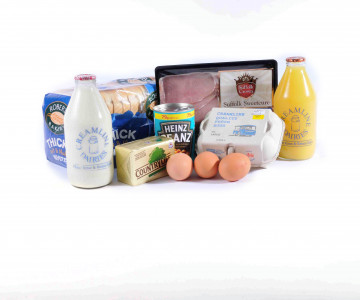 Fancy a Free Fry-Up, courtesy of Creamline?
At Creamline, we love our breakfasts. There's nothing more satisfying than a hot fry-up in the morning. Well, actually - perhaps there is... How about a completely free fry up, delivered straight to your door?
Yes, we thought that would be the icing on the cake.

To celebrate just how amazing morning deliveries to your door are, we're going to be sending out two fry-up packages every week to two lucky competition winners.  The prize will include everything you need for the perfect fry up, including:  bread, eggs, butter, bacon, beans, orange juice and a glass bottle of milk so you can make the perfect cuppa to go with your breakfast.

How to Enter

We know what you're thinking – how can I get some delicious free bacon crisping under the grill?
To enter, you've got to be eligible for Creamline deliveries. To check to see if we deliver to your area, just pop your postcode into our online tool and we'll look it up for you. If you're lucky enough to be eligible, we'll even tell you the name of your friendly local Creamline milkman too.
After that, it's simple to enter: all you have to do is follow Creamline's Twitter @CreamlineDairies and retweet a message about our competition.
Each week our Friday fry up competition launches on a Monday and you'll need to have retweeted and followed us by Wednesday that week to be in with a chance to win the Friday delivery. 
Winners will be selected at random.
If you're selected as a winner, then we'll be in touch for a delivery address to send your fry-up to you.
How easy is that?
Like What You're Smelling?

If you'd like to remove the element of chance and have the components of a fry-up delivered to your door, any day you wanted... Well, you're in luck because we have all the necessary ingredients right here, just waiting to be delivered straight to your door. Plus, we stock milk, dairy and loads of other handy kitchen essentials too. Check out our online shop for our full listings.
Share This
Related Posts