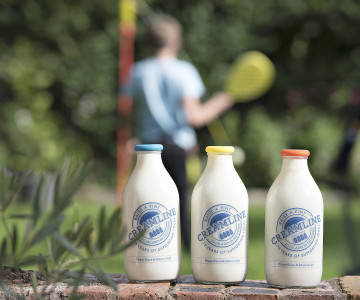 Do your bit for World Environment Day!
This week saw us celebrate World Milk Day – a timely awareness date for us here at Creamline as it falls just before World Environment Day, on the 5th June.
For us, supplying our glass bottled milk is a wonderful way to support local Cheshire farmers, whilst also helping more people make the switch to glass, ditching plastic milk cartons for good.
Glass is greener
Encouraging the people of Manchester to convert from single use plastic to traditional glass milk bottles, the launch of our 'Glass is Greener' environmental campaign saw over 10 million glass bottles delivered to homes and businesses across Greater Manchester in one year alone – saving a staggering 183 tonnes of plastic from local landfill.
To put it into context, if you lined up each of these plastic bottles saved from landfill, they would cover over 900 miles - the same distance as the crow flies from Manchester to Madrid.
Our glass bottles can be reused multiple times, reducing overall waste and helping families cut down their plastic usage significantly.
Supporting local
Did you know that all of our milk comes from selected high-quality farms in the north west, within around a 30-mile radius of our dairy in Eccles? From happy cows, free to roam the Cheshire plains over 180 days a year, these farms are run by dedicated family farmers who we personally know well.
We're very proud to be able to support local farmers through our glass bottled milk – and with our doorstep delivery service, we make it as simple and easy as possible for you to support local too.
Fancy signing up? Head here to register.
Share This
Related Posts