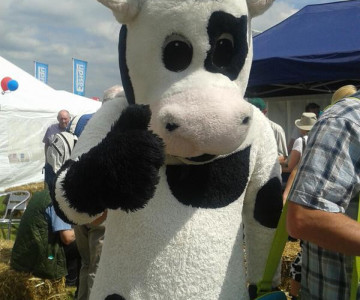 Creamline's giant milk bottles make a splash at Cheshire Show
Last week we told you about some of our activities in and around Didsbury recently - this week it was Cheshire County Show where Creamline's giant milk bottles showed up for a few games of skittles.
We've been thrilled with the response to our new skittles, which are shaped like a traditional pint of bottle milk, and the kids at the Cheshire Show joined in the fun too by pretending to drink from them in the heat of the sun.
Somebody else who was keeping their cool in the summer heat was our mascot, the Creamline Cow, who was doing the rounds near the main ring of the show, and posing for plenty of selfies along the way, which we've been sharing on our Twitter and Facebook pages.
There was a serious side to our appearance at the show, too - and anyone who bought biscuits from our stall will have helped a worthy cause, with donations going to Francis House and helping towards taking care of more than 370 sick children and young adults.
We send our thanks to anyone who donated to this very deserving cause, and to everyone who came to talk to us at our stall, or said hello to the Creamline Cow at the show.
Share This
Related Posts