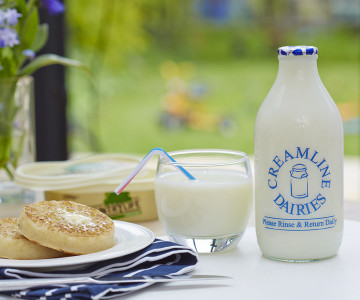 Creamline's George Jones puts bottle milk in the spotlight
Creamline's George Jones is used to doing his rounds with only his shadow and a float loaded with bottle milk for company - but recently he had a shadow of a different kind along for the ride.
Norwegian photojournalist Lars Idar Waage filmed George during a morning's milk deliveries, and has created a short film profiling our veteran milkman.
It details George's reflections on his 42-year career so far, and how he much prefers his four-hour morning milk deliveries to an eight-hour working day.
George says simply: "I'm going to retire when I stop enjoying the job I do."
He adds that with many of his customers remaining loyal over the course of his four decades in the job, he must be doing something right. 
We're delighted also to see Creamline's glass bottle milk filmed so artistically, as George leaves his milk deliveries on doorsteps, in porches, and in the other secure places prearranged with our customers.
Best of all, George gets his delivery spot-on, with no bottles leftover to take back to the depot, and jokes that he deserves a prize - although perhaps it's just a mark of his long service and experience as a milkman.
Click here to take a look at the George in action.
Share This
Related Posts