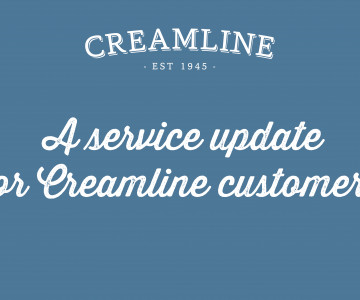 Creamline service update
With news of the Coronavirus continuing to dominate headlines, we've been thinking about our customers, employees and the wider community a lot recently and what we can do to help support people as much as possible.
In order to continue providing a reliable service to our customers, whilst ensuring we look after the welfare of our team, Creamline has made necessary changes to delivery days and ordering times.
Existing online customers can log in to the website to view the current changes to their delivery days on their calendar. Both offline and online customers will receive a leaflet about these changes, with more information provided but please do log in online to view weekly changes.
Changes to orders: revised order lead times
Daily Essentials
There is currently an additional 24 hours lead time on the ordering of Daily Essentials items. Please confirm your order by 9pm, 2 days before delivery. This includes milk, bread, eggs and other essentials.
This change has been made so that the team has time to process the order, ensure the items are stocked and make sure we deliver to your doorstep.
Best of Local
To ensure we can deliver all the items ordered from our Best of Local range, customers will need to confirm orders by 5pm, 3 days before their chosen delivery day.
Change in delivery days
If a change has been made to the day we're delivering to your area, you'll be notified shortly. If you've placed an existing Daily Essentials or Best of Local order and it is scheduled for delivery on a day we now don't deliver on, we'll be in touch. You'll still receive your items, but it'll be on one of the specified delivery days.
Availability of products
At Creamline we have a strong, local supply chain as well as contingency plans in place with suppliers, in order to continue to deliver essential items. Please do place orders responsibly, so that we can continue to deliver to all our customers.
Can you help us minimise risk? Switch to cashless
As a doorstep delivery service, we're able to offer our customers an essential service whilst helping them minimise interpersonal contact at this difficult time.
There are important steps our customers can take to help minimise the risk further – both for you and your family, the Creamline team and wider community. If you're already an offline Creamline customer, you can switch your account to online.
Switching to cashless payments: why?
1. It'll help minimise cash handling, both for you and the Creamline team.
2. Managing your Creamline account is easier online - including making payments using a debit or credit card.
3. You'll be able to order new products and make changes to both Daily Essentials and Best of Local orders.
Please make the switch to cashless payments today: www.creamline.co.uk/offline-customers
Customer queries
As a team we're working hard to make sure we support our customers as much as possible - please do bear with us. We're handling a very high volume of queries, so please do contact us for urgent matters only.
Share This
Related Posts