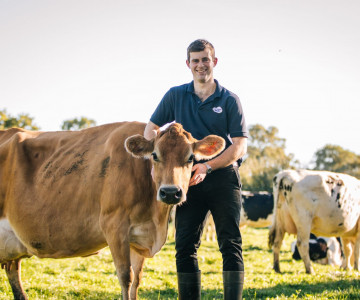 Proud to partner with Clotton Hall Dairy
At Creamline, we're proud to work with suppliers across Greater Manchester and Cheshire, to bring the best local produce to your doorstep. Recently, we teamed up with Clotton Hall Farm, a Cheshire-based family-run farm specialised in creating indulgent dairy products.
We spoke to Henry Cooke, Clotton Hall's managing director, about Clotton Hall's development over the last four years, and their aspirations for the future. 
"Managing the dairy has been great fun since I started back in 2017. Seeing our products stocked in stores across the country gives me a great sense of achievement, especially considering how much work it has taken to build Clotton Hall as a business. 
We're excited to partner with Creamline, as we both like to support local businesses. It's great to see that the Artisan Dairy section of Creamline's website shows customers what local suppliers can offer beyond their usual shop. We care deeply about the welfare of the animals behind our products and that are products are available for the local community to enjoy, and to see that Creamline also prioritises this is really important to us."
You can read the full interview with Henry in the Meet the Producers section of our website.
Share This
Related Posts