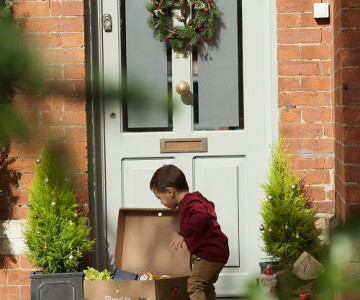 Creamline delivery dates this festive period
Forgotten that jar of cranberry sauce? Exhausted your store of mince pies? There's still time to order your festive favourites, but you'll have to be quick!
There's no need to battle the supermarkets this near to Christmas – Creamline is on hand this week to help.
You can still order from our Christmas packages, as well as from our stunning Best of Local Christmas range. Just remember to place and confirm your Best of Local orders by 5pm on Friday 21st December, for delivery before Christmas on Saturday 22nd December.
For any last-minute top-ups of your Daily Essentials, please order by 9pm on Sunday 23rd December for delivery on Christmas Eve.
Best of Local delivery dates after Christmas
Looking to treat the family in between Christmas and the New Year? We'll be delivering Best of Local boxes to customers on Friday 28th and Saturday 29th December, so please do select these dates if you'd like any festive food delivered to your door.
After a small break for the team and our local producers, at Creamline it'll then be business as usual from Thursday 3rd January. Customers will receive their Daily Essentials and Best of Local orders as normal.
To view your individual orders and December delivery days, please visit My Account. If you need to contact your local depot, you can find the details here.
Got a specific query? The support team is on hand.
The Creamline support team will be taking a well-earned rest on Christmas Day, Boxing Day and New Year's Day, they'll be here to help on the dates below:
23rd December – open from 8am – 4pm
Christmas Eve – open from 8am until 2pm
Christmas Day – closed
Boxing Day – closed
Thursday 27th – Monday 31st December – open as usual, from 8am (Open Sunday 30th from 8am – 4pm)
New Year's Eve – open from 8am until 2pm
New Year's Day – closed
2nd January – open as usual, from 8am.
Share This
Related Posts