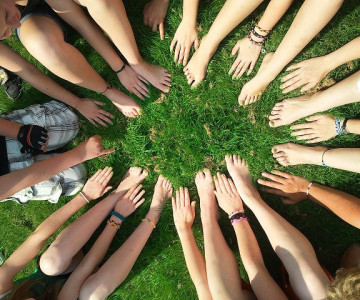 Cream of the Community Award Scheme Returns
The search is on for the next Cream of the Community award winner! Now entering its third year, our Cream of the Community award sets out to motivate people like you to nominate community-spirited family members, friends and contacts. We want to find the unsung heroes in your community. The person that puts in the hard work and deserves recognition for all their efforts.
History
When we launched the Cream of the Community award scheme back in 2014, we had nominations from people across Manchester and Cheshire. It was great to read so many inspiring stories from such a diverse group of people, in all walks of life. Last year we saw the awards grow substantially, with over double the number of nominations.
We love to support charitable causes here at Creamline: our Creamline local lottery has donated tens of thousands of pounds to charitable causes across a variety of organisations such as Francis House, the Girl Guides and St Ann's Hospice – we were so proud to reach the £100k donation mark for the hospice last year.
The Prize
We're giving a great prize to the winner of this year's awards. That's not all though, the person submitting an entry wins too. Both will receive a fantastic prize of a three-month supply of free fruit & veg, delivered straight to their door. The award winner will also receive £500 to give to their charity of choice.
How to Nominate
We've made it easy to nominate someone for Cream of the Community, all you need to do is visit our dedicated page, where you'll find full instructions on how to take part. It's as simple as filling in a few details and writing a little about why you want to nominate the person of your choice.
It's as simple as that, remember to get your nomination in before 31st January 2017 and we'll be releasing details of the winner after that. Good luck!
Share This
Related Posts