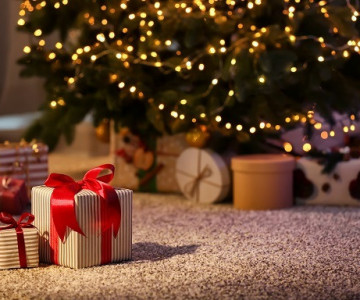 Christmas Eve traditions to celebrate with the family
Christmas is just around the corner, and it's safe to say we're feeling very festive!
If you need some ideas on how to spend the night before Christmas with your family – especially if your family consists of some very excited little ones – check out our tips below:
Bake cookies for Santa
An absolute staple of Christmas Eve traditions is leaving cookies and milk for Santa – plus some water and carrots to replenish his trusty reindeers!
To make this tradition extra special, why not get all the family together to bake some cookies especially for old St Nick? Our recipe for Orange Cinnamon Shortbread requires just 6 simple ingredients and can be made in 7 easy steps. Remember to leave a glass of the finest Cheshire milk out too!
Watch a Christmas film
There's nothing quite like snuggling up and watching a Christmas classic with the family! From seasonal favourites like Home Alone and Elf, to your family's own personal favourites, watching a Christmas film is a simple way to spend time together while basking in the festive season.
Allow your children to open one gift
If your little ones are growing restless, allowing them to open one gift could help to tide them over until the big day. This gift could be something small that you had intended as a stocking filler, or something that all the family can enjoy on Christmas Eve, such as a board game (just make sure it isn't Monopoly!)
Track Santa's sleigh to find out when he'll visit you!
If your little ones are anxious to know when Santa will be stopping by, you can easily track his flight around the world with NORAD. This can also help you to make sure your cookies and milk are ready in time!
However you choose to spend your Christmas Eve, and the big day, we wish you a very Merry Christmas and a happy new year!
Share This
Related Posts