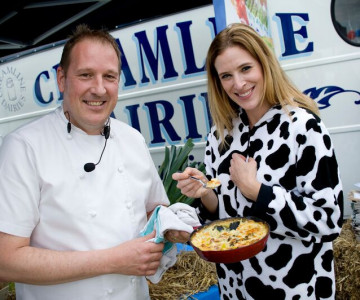 Celebrity Chef Nigel Brown and Creamline Dairies team up!
It's been a busy couple of months, having teamed up with Creamline Dairies for their return to the Cheshire Show, which saw more demos, more tasty samples and bigger and better activities!
It was great to be back working with the Creamline Dairies team, offering visitors to the stand a sneaky peek of their new fruit and vegetables range which is set to launch in the Autumn (more news about that later on!), not to mention the hundreds of strawberry and banoffee coffee smoothies that we made for all those sundrenched visitors and the sight of people enjoying the scones with jam and cream – created using Creamline ingredients. They were so popular last year that we decided to make twice as many for this year's show.
After all the excitement of the show, there wasn't much time before we were on to our next Creamline project, filming a series of fabulous new autumn and winter recipes for you all to enjoy, showing what tasty treats you can make using Creamline's soon to be launched new fruit and vegetable range – so keep an eye out for the clips this autumn!
We'll also be adding a further collection of recipes to the Creamline website, offering plenty of tips to keep you busy for the rest of 2015, all you need to do is head over to www.creamline.co.uk/recipes and remember to tweet us pics of your dishes to @CreamlineDairy and @nigelbrownchef
From keyboard to chopping board, happy cooking!
Nigel 
Share This
Related Posts