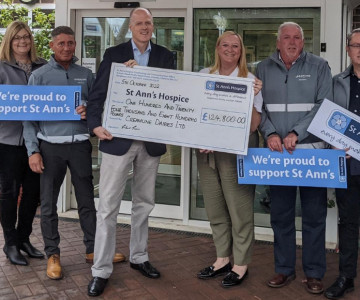 Celebrating over £124,000 donated to St Ann's Hospice
We're very proud to announce that our wonderful lottery players have helped us raise over £124,000 for St Ann's Hospice! St Ann's offers crucial care for patients affected by cancer and other life-limiting illnesses, and their families, and is a charity close to our hearts.
Earlier this month, some of the Creamline team had the pleasure of visiting the Heald Green hospice to celebrate the milestone, ahead of World Hospice and Palliative Care Day on 8th October. We reflected on the staggering amount raised and some of the fantastic initiatives we've been able to support over the years – all thanks to our customers! From involvements in their Pay for a Day initiative where we covered the cost of 24 hours of care at St Ann's, to supplying 72 pints of milk for their Time for Tea event, our generous customers have made a real difference in the lives of people across the North West.
Here's what St Ann's Hospice had to say about your support:
"We're so grateful to Creamline Dairies staff and customers for their ongoing support of St Ann's Hospice. We need to raise £20,000 every day to continue providing our outstanding care and support to the people of Greater Manchester, and we couldn't continue without people and organisations in our community helping us get there. Thank you."
Gayle Shaw - Corporate Fundraiser St Ann's Hospice.
Sign up and have fun with the Creamline lottery
It's easy to get signed up and start having fun playing our lottery while raising much-needed funds for local charities and good causes. Head over to our lottery sign up page here to get started and follow the simple steps.
Half of all ticket sales are paid out in prizes, with both weekly draws and a 10-weekly larger draw.
Once you're signed up, you'll be in for the chance of winning the weekly draw of several £100 and £50 prizes. Our 10-weekly larger draw gives you the chance to win a £1000 prize, as well as number of £500, £250, £100 and £50 prizes
As well as St Ann's Hospice, your involvement helps support other fantastic charities such as Francis House Children's Hospice, The Joshua Tree, NorthCare Charity and more.
Share This
Related Posts