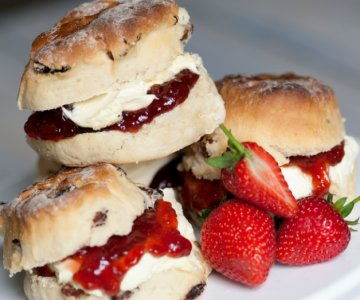 Celebrate Wimbledon with Creamline's cream tea offer
Wimbledon is back, meaning a return of one of our favourite treats – strawberries and cream.
This classic summer dish is thought to have originated over 500 years ago, when Cardinal Thomas Wolsey presented them at a banquet at the court of Henry VIII. Strawberries and cream remained a national favourite ever since and have been a staple at Wimbledon since the first tournament in 1877.
Since then, more delicious foods have joined strawberries and cream as Wimbledon classics, including our personal favourite: cream tea.
So, to celebrate the return of Wimbledon and the start of summer, we are running a cream tea summer special!
Delivered straight to your door, these cream tea packs include British strawberries, bursting with flavour:
Four fluffy sultana scones
Indulgent Cheshire clotted cream
Mrs Darlington's strawberry jam (340g)
400g of sweet, ripe British strawberries.
At just £7.49, these packs are a perfect, indulgent treat. Enjoy whilst watching the tennis, relaxing in the garden, or order as a gift for someone special. Offer ends 18th July.
Order Creamline's cream tea here.
Share This
Related Posts