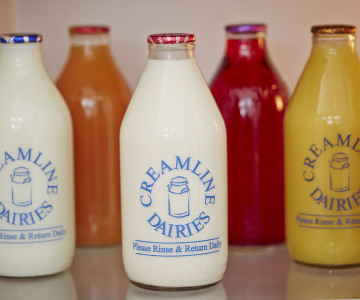 A Creamline Fresh Delivery, for your Inbox!
This month saw the launch of our fabulously fresh service, helping you build your own box full of your favourite fruit & veg, delivered straight to your doorstep. What could be easier?
And to help show you the marvellous things you can make with your market fresh fruit & veg, we've also launched our newsletter, called the Fresh Delivery.
Each month in Fresh Delivery we'll share a recipe masterclass by our resident chef Nigel Brown, who'll be helping you cook up a storm using your fridge full of fruit and veg! We'll also be lifting the lid on the latest goings on at Creamline – from our recent Meet the Milkman school presentations, to news of our Cream of the Community award scheme – as well as updating you on the latest items to hit the Creamline shelves.
Sign up to be the first in the know!
Want to receive this month's Fresh Delivery? Simply head to the bottom of any Creamline web page and pop your name and email in to the sign up box. We'll then ping over the latest Fresh Delivery each and every month.
Share This
Related Posts