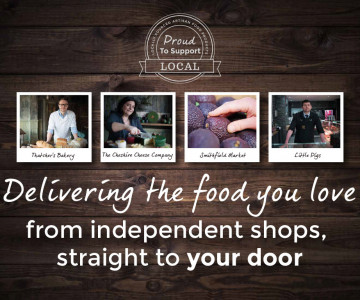 Bringing the Best of Local to You
It's a very exciting time here at Creamline, we've just launched our new Best of Local range. Over time, we had a lot of lovely feedback about our fruit and veg service; so, we've gone that step further and teamed up with a network of local suppliers.
Best of Local includes a range of locally produced, handpicked artisan goods from Manchester and Cheshire's finest butchers, bakers, cheese specialists, grocery and fruit & veg suppliers. With our online shop stocked with the best of their beautiful produce, we can now deliver the food you love from local independents, straight to your door.
Meat the latest additions to the Creamline family!
We're proud to announce, we've teamed up with:  
·         The Cheshire Cheese Company
·         Thatcher's Bakery
·         Little Pigs Butchers of Didsbury
·         Smithfield Market
You can read interviews with some of our suppliers on our dedicated Meet the Suppliers page to find out more about them and what makes them so passionate about their produce.
Get Local This Easter with Creamline
With Easter just around the corner, now's the perfect time to try our delicious new Best of Local range. From deliciously tender Cheshire lamb, freshly baked bread, award-winning cheese and market fresh fruit & veg. Let Creamline's Best of Local range wow your guests this Easter… choose the food you fancy by Wednesday 12th April, for free delivery on Good Friday.
Just head over to our new Best of Local section to get started.
Get Started with a Special Best of Local Recipe
To get you started, we've got some tasty Best of Local recipes for you to try: our Sweet and Sour Chicken recipe uses the freshest chicken from Didsbury's Little Pigs butchers, for a guilt-free dinner with plenty of flavour.
Happy cooking!
Share This
Related Posts