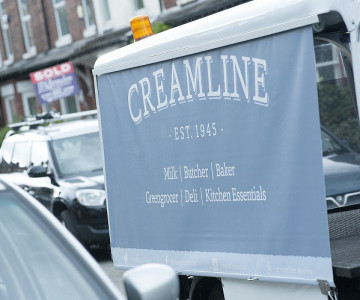 Behind the scenes: Creamline's local connection
You may have noticed that here at Creamline, we are extremely passionate about championing local businesses. But not just those who supply us with delicious produce! This year we teamed up with La Cantina and KPS-Pronorm, fantastic Didsbury-based establishments.
For our delectable photoshoot with Ross Thatcher from Thatcher's Bakery below, La Cantina very kindly offered us their stunning Didsbury village restaurant as a backdrop. La Cantina offer a wide range of tempting tapas dishes and a specialist wine and gin selection – what more could you ask for?
For our Creamline delivery shoot, we settled in to one of KPS-Pronorm's stunning kitchen showrooms below.
Having such a stylish background really set off our shoot nicely – although we suspect that not many kitchens are this spotless after a Creamline delivery has been devoured!
Working with Cantina and KPS-Pronorm was a great experience, as strengthening our local connection is something very important to us here at Creamline. Who knows what the next photoshoot could bring?
Share This
Related Posts