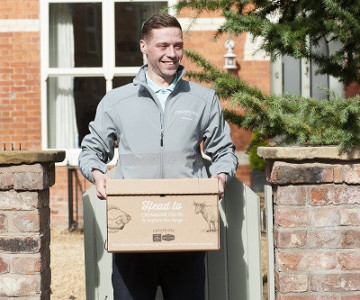 All Rise for Yorkshire Pudding Day!
It's officially Yorkshire Pudding Day on 5th February 2017 and we're taking the opportunity to celebrate this cornerstone of the British roast dinner. Whether you're a Yorkshire pud lover or if you can't decide whether they're just puffed up pretenders, full of hot air – do read on to find out more about their invention and for a guide on how to perfect the pudding at home; so you can enjoy them paired with our fresh veg, served up in a roast dinner!
The Batter Begins
Historians aren't sure exactly when the first Yorkshire pudding was made, only that they seemed to enter into the British diet during the 1700s. In 1737, the first recorded recipe for a Yorkshire Pudding was published in a cookbook. Previously, dripping puddings were a feature of roast dinners but they differed from Yorkshire puddings: they were much less fluffy and smaller in size.
Yorkshire Pudding Facts
Here's some fun facts to share with your family over the dinner table:
· Yorkshire puddings were originally served as a starter to a roast dinner, rather than being served alongside it – they were made to be very large and served with thick gravy, to fill the appetite of the diner and to save money on serving your guest more expensive meat for the main course!
· Whilst we might associate the word 'pudding' with a sweet dessert, until the late 1700s the word meant meat based, sausage type foods: such as black pudding.
· In 2008, the Royal Society of Chemistry officially said a Yorkshire pudding is meant to rise and that "a Yorkshire pudding isn't a Yorkshire pudding if it is less than four inches tall".
Perfecting the Pud
For our perfect pud recipe, we're pitting together two powers of the culinary world – so you can decide who's recipe is your favourite.
· First up, it's Delia Smith's Yorkshire Puddings for four – Delia's recipe bucks the Yorkshire Pudding trend, ignoring more traditional methods that say you need to leave the mix to rise. With Delia, you can get cooking straight away.
· Second, if you've got a food thermometer – then we recommend you try chef Marco Pierre White's precision pudding recipe
Share This
Related Posts