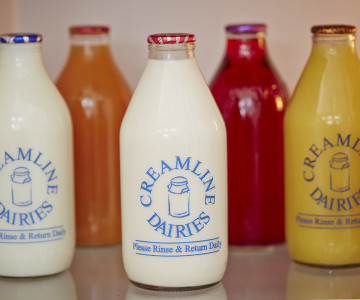 5 Reasons to have Local Produce Delivered
We offer more than just local milk delivery - many of our customers have all kinds of local produce delivered, and as well as being a convenient way to stock up on grocery essentials, here are five other good reasons to add some locally sourced food to your basket:
1. Food Miles
If you're concerned about the environment, having local produce delivered is a great way to cut down on your food miles. We bring your grocery essentials direct to your door, and wherever possible our locally sourced food comes from within 30 miles of our dairy, so its overall carbon footprint is as small as possible.
2. Freshness
Straight from the farm to your door (via our dairy), it's not just your local milk delivery that benefits from being as fresh as possible; farm-fresh eggs are up to a third lower in cholesterol than those you buy from the shop.
3. Economy
When you don't know where your food comes from, it's impossible to know where your money is going too - our locally sourced produce means the money typically stays within your own area, and if you're in business that means there's more chance of it coming back to you via a customer of your own.
4. Holidays
Don't get caught out by holidays - we deliver in advance when a bank holiday is coming up, so you shouldn't run out of grocery essentials, and it's easy to log on to your account and schedule a holiday if you're going to be away for a week and don't need any deliveries during that time.
5. Community
It's not just about putting money back into your local community - we get involved in fairs and fetes, galas and gatherings, with games for the children and cream teas for mum and dad, so look out for us at your next local event and come talk to use about our home milk and grocery delivery.
Share This
Related Posts