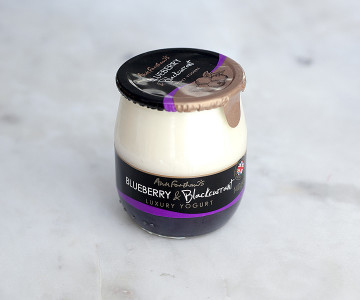 5 fun ways to use your Creamline glass yogurt pots
With the summer holidays drawing to a close, finding fresh activities for the little ones in the last few days of their holiday can be a tricky task. Creamline is here to help! You might have spotted the latest addition to our plastic free product range, Ann Forshaw's luxury yogurts, served in a glass jar.
Helping reduce plastic pollution, once the delicious yogurts are all eaten up, the pots are a perfect way of squeezing in some craft time, helping re-use the glass jars for something fun.
Here are our five alternative and innovative ways of re-using the pots, to not only help the environment, but to keep the kids entertained.
So, roll up your sleeves and join in the fun!
1. Create colourful little sweet jars, perfect for small gifts. Topped off with all kinds of eye-catching ornament - adorned lids.
2. It may not be Christmas yet, but it is fast approaching! Why not make miniature snow globes using: small toy animals, trees and characters (which are sure to be buried deep at the bottom of the toy box), super glue, fake snow and glitter. All that's left to do is glue the ornament to the lid, fill the jar with snow and glitter and pop the lid back on. Simple!
3. Sticking to the Christmas theme, why not stock up on your empty yogurt pots to make a home-made advent calendar? Fill each day with whatever goodies you like and let the countdown begin! Simply number the lids and decorate the jars, and you've got a homemade advent calendar which you can use for years to come.
4. Decorate jars with colourful patterns, fill with dry sand and you've got yourself a vibrant and beautiful tea light holder.
5. Fill the empty jars with different coloured sand to create a beautiful masterpiece that's perfect for your mantlepiece.
There you have it, five excellent ways to reuse your yogurt pots, providing hours of fun!  
Why not get even more creative and think of some other ideas for used yogurt pots? Send us pictures of your masterpieces via our twitter (@CreamlineDairy), Instagram (@creamline.co.uk) or Facebook page (www.facebook.com/creamlinedairies) 
Share This
Related Posts