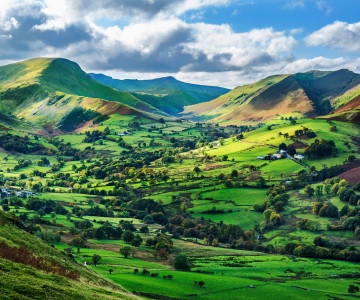 3 beautiful Bank Holiday walks near Manchester
When the hustle and bustle of the city gets a bit too much, we're lucky to be surrounded by a plethora of breath-taking landscapes to escape to! Ahead of the long weekend, we've compiled our top three walks within an hour of Manchester. Whether you're after a leisurely stroll through peaceful woodland and meadows, a historically immersive hike, or something more thrill-seeking, we've got you covered.
Tandle Hill Country Park
Make the most of the luscious parkland near Manchester by visiting Tandle Hill Country Park in Royton, Oldham. Climb up to the vantage point and you'll find spectacular views spanning Manchester, Rochdale and the Pennine Hills. On a clear day, you can even see as far as Wales – so here's to hoping the weather cooperates!
After a hike across Tandle Hill's beech woodland and open grassland, there's perhaps no better reward than afternoon tea and cake. Luckily, with our locally sourced sweet treats from SLAB bakery and Thatchers, you're spoilt for choice! Our top picks for the long weekend are SLAB's indulgent Chocolate Brownie and Thatchers Lemon Loaf Cake, paired with Worker Bee's gorgeous Royal Mill Black Tea.
Tegg's Nose Country Park
Our next top pick is a little further out but well worth the journey. Tegg's Nose Country Park is an abundant meadow, moor and woodland area teeming with wildlife. For this spot popular among both casual and serious hikers, we recommend you get your hiking boots out and granola bar pick-me-ups at the ready. Find our berry and cherry granola breakfast bar recipe here for a burst of energy on the go.
While there is no cycling within Tegg's Nose Country Park, a challenging mountain bike trail resides nearby for thrill seekers. Beginning on the main car park, the 'Grit and Gears II' mountain bike ride is known for being a gruelling wild terrain route that reaps many scenic rewards: from the ride through quaint Wildboarclough to the descent down the picturesque Cumberland Brook, gorge your eyes on these countryside vistas!
Ruins of Errwood Hall
Once a flourishing estate of over 2,000 acres, now only the walls and ruins of the magnificent Errwood Hall remain after its demolishment in 1934. Though the beautiful country house no longer stands in its former glory, the Goyt Valley in which it is situated is home to some of the most historic sites in the Peak District – and a few ghostly tales.
From the hilltop graves of the Grimshawe family who once occupied the Hall, to St Joseph's Shrine – a memorial to a Spanish school teacher who once taught at the estate – to the ruins of Errwood Hall itself, you'll find many traces of the once thriving community within a three-mile circular walk.
Be sure to fuel up before your day out with our handpicked breakfast selections. From Thatchers Nutty Granola and Ann Forshaw's Farmhouse Yogurts to a cornucopia of fresh fruit, our healthy breakfast range helps you start the day off right.
Share This
Related Posts