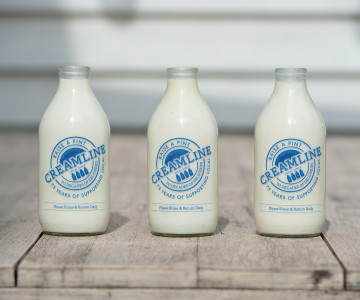 War on Plastic: how shopping with Creamline can help
"Every single minute, of every single day, a truckload of plastic is finding its way into the world's oceans."
War on Plastic, BBC One, 1 September 2020
Plastic pollution was already described as one of the 'greatest threats to our planet' before the coronavirus outbreak, but with a sudden boom in daily use of products such as disposable face masks and bottles of hand sanitiser, the pandemic is making things much worse.

With Creamline, it's easy to make simple changes and do your bit to help cut down on the amount of plastic making its way into the world's oceans – glass bottles are the original recyclable packing after all!
Our milk, juices and milkshakes are all available in glass bottles, meaning you can enjoy fresh, local produce delivered straight to your doorstep without worrying about the impact of plastic pollution.
We don't stop here, though, you can choose from our range of handpicked local fruit and veg and even glass-jar yoghurts, all plastic-free!
So, if you were inspired by last night's War on Plastic on BBC One, head to the plastic-free aisle on our website, where our handy green icon will tell you that the products you're choosing are free from plastic.
We are always looking to add more products to our plastic-free range and are continuing to work with our suppliers to find new ways of doing this.
Share This
Related Posts