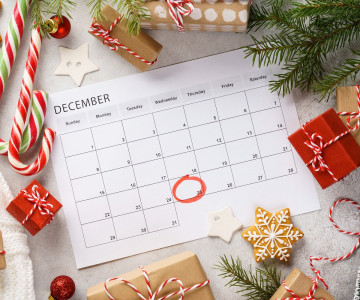 The countdown is on… 3 weeks until Christmas!
The decorations are up, gift wishlists are being made, shopping is in full swing and everything is starting to look that little bit more festive. With just three weeks to go until Christmas Day, it's time to really start getting your Yuletide affairs in order.
Luckily, we've got a handy checklist to help you get things organised this December – notebooks at the ready!
The first week of December is a good time to buy a live tree – or to stock up on fresh greenery and garlands. They should stay fresh and green right through to the 25th.
Decide what you'll be cooking on Christmas Day, and how many people will be round the table, preventing any mad dashes to the supermarket the week before!
If you've already started your Christmas shopping, start wrapping – you'll be glad when you can put your feet up on Christmas Eve.
Write and post (or email!) any Christmas cards to make sure they arrive on time.
Grab the essentials for Christmas dinner – do you have enough glasses? How about cutlery? If you're keen to keep an eco-friendly eye on proceedings, you could always try sourcing second-hand products.
Finally, order in your culinary centrepiece! No Christmas feast is complete without it, whether it's turkey, gammon, beef or something a little different.
Creamline's showstopping Christmas Range is now live and available to order. With premium meat hand-prepared by Little Pigs butchers, delicious sweet treats from Thatcher's Bakery and artisan cheese from the Cheshire Cheese Co, Creamline customers are spoilt for choice this year. Head here to browse and choose your delivery dates – and don't forget the online discount code ROAST for 20% off your Creamline Christmas roast.
Share This
Related Posts