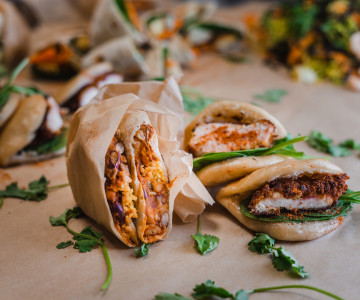 Tackling food waste with local campaigner Corin Bell
As part of our constant drive to be greener here at Creamline, we've been turning our thoughts to food waste. With us, you can order little and often, meaning fewer bulk orders and potential waste – great news all round!
In this week's blog post we're catching up with Open Kitchen MCR's (Formally Real Junk Food Manchester) Corin Bell on our latest partnership tackling food waste. Thanks to our frequent orders, not much goes to waste at Creamline, but we wanted to do something positive with what we had! This is where our link up with Stockport-born Corin came in – read on to find out more…
Can you tell us more about Open Kitchen MCR?
Open Kitchen MCR is Manchester's one and only waste food catering social enterprise. We intercept perfectly good food that would otherwise go to waste and transform it into delicious catering for any event or special occasion including conferences, meetings, weddings and gala dinners.
We also run regular events called Surplus in collaboration with Manchester brewery Beer Nouveau. These events offer a range of tasty beers and creative street food dishes all made from ingredients that would have gone to waste.
Income generated from our events and catering service supports our work with local organisations who help people and families Greater Manchester who are having a hard time. This includes providing regular hot nutritional meals for Coffee4Craig, an incredible charity that supports people experiencing street homelessness.
Why did you launch Open Kitchen MCR?
Open Kitchen MCR is the next stage of our living experiment after Real Junk Food Manchester [the city's first pay-as-you-feel restaurant]. Our events and catering service operate on the pay-it-forward model. This offers us more stability financially and we are able to work more with community organisations as a result.
Why is food waste such a huge problem?
Around 15 million tonnes of food is wasted every year in the UK alone. This has a huge environmental impact. When there are people and families across the UK who struggle to access enough food, it very much makes it a social issue also. We believe that food should feed bellies, any bellies, and not bins.
What are some of the challenges we face with sustainability?
Our passion for sustainability doesn't just apply to food, it extends throughout our operation. This includes our choice of cutlery, plates, and other sundries for our catering events, a commitment to reduce single-use plastics and wherever possible moving to reusable options.
Find out more about Open Kitchen MCR here and follow the hashtag #feedbelliesnotbins.
You can find their Instagram, Facebook and Twitter accounts under the handle @openkitchenmcr, and for LinkedIn just click here!
Share This
Related Posts