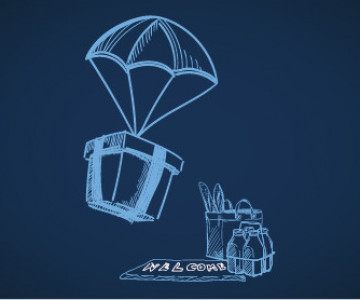 Nominate a deserving doorstep this season!
This year has been a year like no other. We've been through tough times but we've also seen heroic efforts from many people in the local community, who have helped to support those who need it most.
The world's changed a lot in the 75 years we've been delivering to doorsteps but one thing's remained the same: our communities still mean the world to us. That's why this winter, we'll be delivering free milk and essentials to 10 deserving doorsteps across Greater Manchester & Cheshire.
But - we need you to help us find them!
Do you know of a friend, neighbour or family member who you think deserves a helping hand this winter? Maybe they've been working extra hours during the pandemic, struggle to get to the shops or have simply been a great support to you over the last few months.
If you know someone who fits the bill and would enjoy receiving our Daily Essentials straight to their doorstep, we'd love to hear from you. Our lucky winners will each receive four weekly deliveries of a box of Creamline essentials worth £25 each.
The deadline for sending us your nominations is Monday 4th January, with our 10 deserving doorsteps to be selected by members of the Creamline management team.
We'll announce the 10 deserving doorsteps on Monday 18th January!
Head to the link here to give us your details, and let us know who you'd like to nominate and why: https://mailchi.mp/creamline.co.uk/deserving-doorsteps.
For the full terms and conditions, please read here.
20 'DESERVING DOORSTEPS' TERMS AND CONDITIONS
20.1 The 'Deserving Doorsteps' competition is open to UK residents over the age of 18 who nominate someone else to be chosen as a recipient of free deliveries from Creamline.
20.2 Ten winners will be selected by members of Creamline's senior management team. Each winner will receive four weekly deliveries of Creamline products, each worth £25. Products will be selected by Creamline, taking into considerations any allergies or dietary requirements made known to Creamline when requested. The prize cannot be transferred and no cash alternative is available.
20.3 The person nominating each winner will be contacted to notify them of their successful nomination. They will need to contact their nominees and ask them to contact Creamline to share their delivery and contact information for the purposes of making the deliveries. Creamline reserves the right to select an alternative winner(s), in the event of reasonable efforts to contact the original winner being unsuccessful (s).
20.4 Delivery of the prize must be made to a property within Creamline's delivery catchment area.
20.5 Creamline reserves the right to withdraw or deactivate the promotion for any reason, at any time or to suspend deliveries or any account or delivery location on the bases outlined in its terms and conditions generally.
20.6 The winner agrees not to sell, offer to sell or use the prize for any commercial or promotional purpose (including placing the prize on an internet auction site).
20.7 The name, town and photograph of the winners may be used by Creamline for post-event publicity purposes. The winner agrees to comply with a reasonable request to provide a photo of themselves with their prize and to allow Creamline to use their name and likeness for advertising and publicity purposes without additional remuneration.
20.8 By sharing images and tagging Creamline, you are granting Creamline the rights to use your image for sharing on its social media channels, without remuneration.
20.9 The set closing date for this promotion is 4th January 2021. This may be altered by Creamline at any time.
20.10 Entry implies acceptance of these terms and conditions
Share This
Related Posts