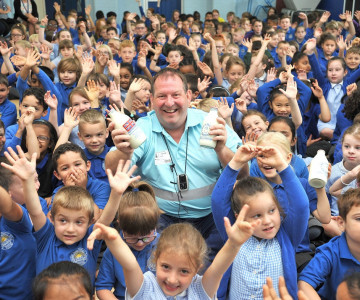 Launching our school glass bottle scheme: Manchester schools join the glass revolution!
Across primary schools in Greater Manchester, a staggering 1,000,000 plastic bottles each week are used on milk breaks. Here at Creamline, we are huge advocates of the use of glass milk bottles - the average school could save up to 38,000 plastic bottles per year from going to waste by making the switch!
We've been working behind the scenes on this issue and are very excited to announce this week that we have launched a brand new school glass bottle scheme, delivering reusable glass milk bottles to thousands of schoolchildren across Greater Manchester!
Working together with local councils, we're encouraging schools to make the switch from plastic third pint bottles to glass bottles – which are collected daily and reused by us. We launched the scheme a couple of months ago, and now dozens of schools are making the switch – we're delivering to schools across Oldham, Salford and Trafford!
Clarendon Road Primary School was the first school in Salford to make the move. Headteacher Rachel Gallagher said: 'As a school we're working hard to make sure we're as green as possible and switching to Creamline glass milk bottles is an exciting next step. It's great to see all our children working together. They love being part of something so important as reducing plastic pollution and we're proud that Clarendon Road Primary is leading the way for Salford.'
By switching to glass milk bottles and re-useable cups, millions of single-use containers could be diverted from landfill or recycling, meaning schools could reduce recycling costs as well as boost their green credentials!
Signing up to Creamline's glass pilot scheme
If you are a teacher keen to sign up your school, please contact Andy Partington on [email protected] or 0161 835 3311.
Share This
Related Posts