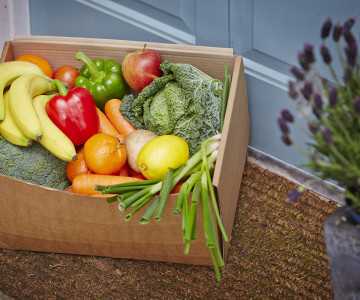 How do I add locally sourced food to my milkman delivery?
If you already have a regular milkman delivery from Creamline, you might not realise how easy it is to add locally sourced food to your order.
We often talk about our locally sourced food, and by 'food' we mean our fresh milk, eggs, bread and veg box contents, all of which generally come from within 30 miles of our dairy.
To give you the best quality and the best choice, we also stock some brand-name products, which may come from further away, but where we are able to source a product direct from the farm, we will always prioritise our local community first.
Adding any of this locally sourced food to your order is easy, thanks to our online shopping system - simply log into your account, and add the items you want to your basket.
The daily order screen is your place to make one-off additions to your next delivery, and these can usually be made right up until 9pm for delivery the following morning.
This means our Customers effectively have a convenience store right at their door with a few clicks of a mouse.  
In October we aim to add to this convenience store,  bespoke fruit & veg box deliveries also via the website which will be an even more convenient way to source local produce straight from New Smithfield Market in Manchester.  Why not set up an account now to try this amazingly easy and convenient way to source local produce delivered free straight to your home?
Share This
Related Posts