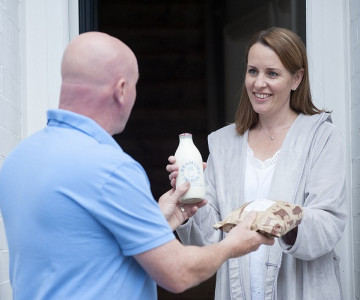 Happy Independence Day!
Wednesday marks one of the most important dates in the American calendar, Independence Day! Traditionally celebrated on the 4th of July, 242 years ago on this date Congress officially adopted the Declaration of Independence. In this week's blog post, we'll be looking at some Independence Day traditions, as well as one of our favourite American recipes.
4th of July traditions
Perhaps one of the most popular celebrations, towns and cities across the US will be holding parades with military units, cheerleaders and bands! Flying the flag is also an important part of the day; at midday, military troops fire a gun salute, with one gun fired for each US state.
A less formal mode of celebration is an eating contest. These have been around in the US for a while – and have turned into an almost 100-year-old tradition! One of the most famous is a Hot Dog eating contest, held in New York. Speaking of food…
Get cooking!
One of our favourite recipes from across the pond has to be macaroni cheese. Easy to make, this dish makes great comfort food, and is perfect for parties. Here is a no-fuss recipe from BBC Good Food:
Ingredients
·       50g baguette, cut into small chunks
·       2 tbsp butter, plus 1 tbsp melted
·       350g spiral or other short pasta
·       1 garlic clove, finely chopped
·       1 tsp English mustard powder
·       3 tbsp plain flour
·       500ml whole milk
·       250g vegetarian mature cheddar, grated
·       50g parmesan
Method
1.     Heat oven to 200C/fan 180C/gas 6.
2.     Spread the chunks of bread over a baking sheet, drizzle with the melted butter and season. Bake for 6 mins until crisp, then set aside.
3.     Boil the pasta for 2 mins less than stated on the pack. Meanwhile, melt the remaining butter in a saucepan.
4.     Add the garlic and mustard, cook for 1 min, then stir in the flour. Cook for 1 min more, then gradually whisk in the milk until you have a lump-free sauce. Simmer for 5 mins, whisking all the time until thickened.
5.     Take off the heat, then stir in all the cheddar and half the Parmesan.
6.     Stir the pasta and some seasoning into the cheesy sauce. Tip into a large ovenproof dish, or 4 individual dishes.
7.     Scatter over the bread and remaining Parmesan, then bake for 20 mins until crisp and golden.
Share This
Related Posts