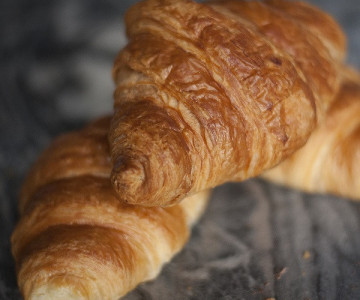 Get Your Day Off to a Good Start with the Right Breakfast
This time of year usually marks the celebration of Breakfast Week – though for 2017, the team behind the celebration has rightly decided that breakfast is too important to be a one week wonder.  As, at Creamline, we constantly eat, think and love the meal that many refer to as 'the most important of the day', in this post, we share some of the fantastic new international recipes we've recently featured on the Creamline website.
Apple & Cinnamon Pastries
We're off to France for our first breakfast recipe: these delicate pastries marry together warming cinnamon with a burst of apple.
Ingredients
·         7g dried yeast
·         1 tablespoon caster sugar
·         125ml warm milk
·         225g plain flour
·         Pinch of salt
·         1 egg, lightly whisked
·         100g butter, chopped, softened slightly
·         1 granny smith apple, peeled, cored, finely chopped
·         90g sultanas
·         2 teaspoons ground cinnamon
·         50g butter, softened, extra
·         100g brown sugar
·         150g icing sugar mixture
·         1 tablespoon milk, extra
Method
1.      Combine yeast, caster sugar and milk in a bowl. Set aside in a warm place for 5 minutes or until foaming.
2.      Place the flour and salt in a large bowl and make a well in the centre. Add the milk mixture and egg and use a round-bladed knife to stir until combined. Turn onto a lightly floured surface and gently knead for 2-3 minutes or until smooth.
3.      Roll dough out to form a 20 x 30cm rectangle. Dot the butter over two-thirds of the dough. Fold dough into thirds to enclose the butter. Turn dough clockwise 90 degrees. Roll dough into a 20 x 30cm rectangle. Repeat folding, turning and rolling. Fold into thirds. Cover with cling film and place in the fridge for 15 minutes to rest.
4.      Continue this rolling and folding process 2 more times. Cover and rest in fridge for 15 minutes. Continue process one more time. Cover with cling film and place in fridge for 30 minutes to rest.
5.      Preheat oven to 200°C. Line an oven tray with baking paper. Combine the apple, sultanas and cinnamon in a bowl. Combine the extra butter and brown sugar in a bowl. Roll the dough into a 25 x 35cm rectangle. Spread the butter mixture evenly over the dough. Sprinkle with the apple mixture. Starting at a long end, roll dough Swiss-roll style to form a log. Use a small, sharp knife to cut log widthways at 2.5cm intervals into 12 discs.
6.      Place discs, cut-side down, on the lined tray, leaving room for spreading. Set aside in a warm place for 15 minutes to rise. Bake in preheated oven for 15 minutes or until golden brown and cooked through. Remove from oven and set aside on the tray to cool.
7.      Combine the icing sugar and milk in a small bowl to make a smooth paste. Place in a piping bag. Snip the end and drizzle evenly over the pastries. Set aside for 15 minutes to set and serve.
Chicken and Avocado Arepas
Cast your mind all the way across the Atlantic for this breakfast recipe. For this one, we've got a creamy blend of avocado and pulled chicken packed into a type of uniquely South American bread known as an arepa.
Ingredients
·         ​500g of pulled chicken
·         ​1 avocado
·         ​1/2 onion
·         ​handful of fresh coriander
·         ​1 tbsp of mayonnaise
·         ​1 tsp of French mustard
·         ​salt and black pepper to taste
·         ​1 lime
·         ​3 tbsp of extra virgin olive oil
Method


1.      Dice the onion, avocado and coriander and place in a bowl, add the pulled chicken, mayonnaise, mustard, lime, olive oil, salt and black pepper.
2.      Mix everything very well as to break the avocado slightly and the mix becomes creamy.
For the arepas
Ingredients
·         590ml milk
·         60g unsalted butter, cut into pieces
·         185g white maize flour
·         1 1/2 tsp salt
·         1/2 tsp freshly ground black pepper
·         65g cream cheese
·         Vegetable oil
For the arepas:
Method


1.      Bring milk to a simmer in a small saucepan, then remove from heat and stir in butter.
2.      Combine white maize flour, salt, pepper and cream cheese in a large bowl. Add the hot milk and stir until combined. Let mixture stand until milk is absorbed enough for a soft dough to form, 1 to 2 mins (dough will continue to stiffen).
3.      Form the dough into 12 balls (about 5cm in diameter) and flatten between palms into 10cm patties (just under 1cm thick).
4.      Heat 2 tbsp of oil in a large nonstick pan over medium heat until the oil begins to shimmer, fry 4 arepas at a time, until lightly golden brown on both sides and just cooked through, about 2 to 3 mins per side; transfer to a baking sheet lined with baking paper
5.      Slice the arepas in half crosswise and sandwich together with the chicken and avocado filling and serve
Share This
Related Posts