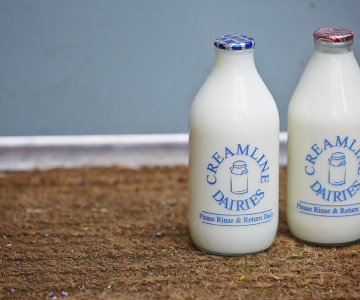 Free to Roam: Our Creamline Promise
At Creamline, we believe that a happy cow makes the best tasting milk – so that's why we ensure all our cow's milk comes with a 180 day Free to Roam promise. That means that when you drink or cook with Creamline's milk, you can rest assured that the cow it came from has the freedom to have been outside at least half of the year.
Space to Mooove
We get our milk from dairy farms dotted around Cheshire:  this means that Daisy, Buttercup and friends get time to explore the rolling plains of the county. The more the cows at our farms get to move around, the better the milk tastes – that's why milk from Creamline tastes so clean and fresh.
This is because cows that do not live healthy lives or endure stress, have a high somatic cell count which leads to milk tasting off-flavour: usually with an excessively bitter or salty taste.
Farm Fiction?
Whilst many companies might present their dairy products as coming from cows that are allowed to freely roam pastures, this isn't always the case – some other farms allow their cows limited time to roam, spending the vast majority of their lives indoors. In fact, around 20% of dairy cows in the UK are zero graze, which means that they are permanently indoors.
Moovelous Concept
We hope you like our 180 day Free to Roam promise – the cows certainly do. We think it's important to keep our commitments transparent to consumers, which also includes our Creamline milk mile promise - helping support local farmers by sourcing milk within 30 miles of our dairy.  
Share This
Related Posts