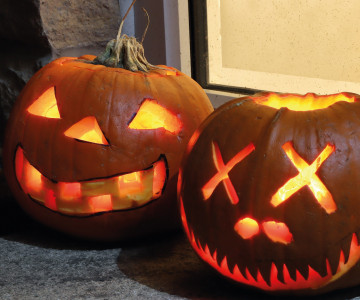 Don't miss our spook-tacular Halloween competition!
Halloween is nearly upon us, and we cannot wait to eat, drink, and be scary! Originating from the ancient Celtic festival of Samhain, Halloween once signalled the beginning of the new year and was believed to be the one night where the dead could return to Earth. The Celts celebrated Samhain by dressing in animal skins, lighting bonfires, and preparing food for phantom visitors, traditions that we can still see in Halloween celebrations today.

We love to celebrate the spooky season here at Creamline, which is why we're offering you the chance to win some ghoulish goodies!
Take a photo of your spook-tacular doorstep to be in with a chance to win a fa-boo-lous Best of Local bundle worth £15. There are no tricks when it comes to the treats on offer! All locally sourced and lovingly crafted produce from suppliers in the North West, the devilish treats up for grabs are:
To enter, tag us in a photo of your spooky doorstep – think carved pumpkins, skeletons and, of course, your Creamline milk bottles!) on Facebook, Twitter, or Instagram by midnight on 31st October. Terms and conditions apply.
Share This
Related Posts