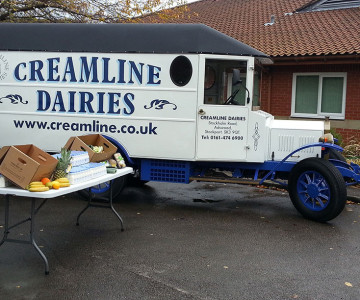 Christmas Comes Early At St Ann's Fair
The last couple of weeks have been busy at Creamline, with the 15th November topping the list as we headed to the annual St Ann's Hospice Christmas Fair in Little Hulton. It was a gusty November Sunday afternoon but the turnout for the fair was excellent and many of the stands were full as soon as the doors opened at midday!
As many of you'll know,
St Ann's provides such an important service for people in the local community at a particularly sensitive time in their lives, so we're always keen to show our support.
The Christmas annual fair brought in crowds from across Little Hulton, Worsley and the wider Greater Manchester area. The hospice gave us a warm welcome and we really enjoyed spending time catching up with the staff. It was a real pleasure to meet and speak to attendees at the fair too. We managed to give out over 600 milk bottles from Creamline's vintage float, to help raise money for the hospice.
As well as supporting such a brilliant cause, it was fantastic to meet up with some of our customers – both new and old. We spoke to some customers that were excited to hear about our new fruit and veg offering and others that have already placed orders. We even bumped into a lifelong customer that had been buying from Creamline since before it was bought from the Roe family in 1994!
We'd like to extend our thanks to everyone who attended the fair; it was a great opportunity to meet the lovely people that help deliver such a worthwhile service at St Ann's and those that help support it each year. 
Share This
Related Posts