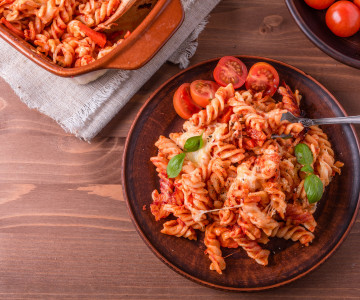 Bring a taste of Italy to Manchester
Italian food is one of the world's favourite cuisines and for good reason: it is the home of pasta, pizza, risotto, gelato and many more delicious dishes. June to October is the perfect time to try out new Italian creations. In this window, you'll find tomatoes, the heart of many Italian dishes, in their peak season. From our pasta and sauce bundle offer to some seriously fun pizza making kits from Stockport's Dough It Yourself, we've got the staples that'll bring a little taste of Italy to your doorstep. The most important question is, pizza or pasta?


Nonna Theresa's pomodoro e basilico sauce and our 3kg bag of fusilli pasta are the perfect match in our newest bundle deal. This pairing is perfect for evenings when you want to whip up a quick and healthy dinner.
Lucio Corciulo is the self-proclaimed pasta man behind Nonna Teresa's delicious and authentic pasta sauces. Lucio left Italy for the Channel Islands at 18 years old but now resides locally in Cheshire, creating sauces that authentically represent southern Italy and, 'most importantly, the aroma of his mamma's kitchen'. You can be confident that Nonna Teresa's sauces create a delicious aroma that envelopes your kitchen, with only 100% natural ingredients and no added sugar or additives.
Unsurprisingly, Italy leads the world pasta consumption leaderboard. However, the actual statistic is astounding – on average, an Italian person eats 23kg of pasta each year! To put that into perspective, the average person in the US eats 9kg of pasta per year, 8kg in France and Germany, while the UK lags at 3.5kg! Fuso (spin!) your way up the pasta charts with the 3kg fusilli pasta bag included in this bundle.
Add the pasta bundle to your next Best of Local order here.


Did you know that pizza was originally invented in Naples? The Margherita pizza, too, hails from this bustling Italian city. Raffaele Esposito, chef and owner of restaurant Pizzeria di Pietro e Basta Cosi, was summoned by the queen of Italy, Queen Margherita to make some local treats. Among these was a pizza which he made with mozzarella, tomato and basil to represent the colours of the Italian flag, thereby birthing the Margherita pizza!
With a little help from Dough It Yourself, you can channel your inner pizza maker with three tasty pizza making kits to choose from. Vesuvio, Romana or Diablo sauce? There's a sauce for you no matter your taste – or spice tolerance! Rest assured, Dough It Yourself source only the finest ingredients for their bakery in Stockport. Like a fine wine, their sauces are developed over time, resulting in a genuine Italian taste when paired with their fresh pizza bases.
Welcome in fun times with the family and take your pick from three pizza making kits here.
After your food, it's only right that you wash it down the way Italians do: with an espresso! Despite cappuccinos, macchiatos and the likes originating from Italy, a simple espresso is the most commonly consumed form of coffee in the nation! Worker Bee's Piccadilly Mill espresso beans are the perfect choice here for a full-bodied concentrated shot of coffee with notes of dark chocolate, fruit and spices.
Share This
Related Posts