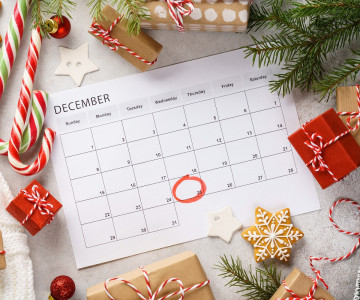 Be the host with the most this Christmas
Now the festive season is well and truly under way with the big day in less than two weeks, it's time to start planning. Even the most seasoned chefs among us can get flustered by Christmas dinner! The most common culinary mishaps include dry turkeys, tough sprouts and lumpy gravy. So, if the thought of cooking for the masses and hosting the family fills you with dread, we've got loads of handy tips to help your day run smoothly.
Cooking a terrific turkey
Turkey is the ultimate festive classic – with 76% of families in the UK tucking in on Christmas Day. The bird became a mainstay of Yuletide celebrations in recent years; it was considered a luxury until the 1950s, when fridges became more common. Nowadays, the issue is less about keeping the turkey cool, than cooking it to perfection!
Our top tip for a resplendent roast is to cover it in smoked bacon – this really helps tenderise the turkey, and makes a delicious gravy! If you find that your turkey is often dry, make sure you invest in a high-quality, slow-growing breed, as this bird will have more fat cells – making it moist as it cooks. Why not take a look at Creamline's Holly Package for a turkey that does your cooking justice?
Splendid sprouts
Now sprouts can often be a divisive issue, but we have just the recipe to convert reluctant guests. Try mixing sprouts with an onion, lemon juice, salt, pepper and olive oil, and leave to marinate. Then roast and add some freshly grated Parmesan – a real crowd-pleaser. See the full recipe here.
Bye-bye (lumpy) gravy
You've cooked the turkey and sprouts to perfection – but you've fallen at the final hurdle. If a crisis of lumpy gravy strikes this Christmas Day – never fear! Try whisking with a drop of warm water, and if this fails – reach for the blender.
Be sure to take a look at our full range of Best of Local Christmas Fayre this season.
Share This
Related Posts