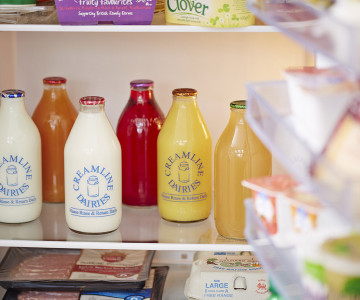 Add organic bottle milk to your basket this September
Whether you call it National Organic Month or the Soil Association's catchy name 'Organic September', this month is the ideal time to add a pint of organic bottle milk to your Creamline order.
Our organic bottle milk comes from the Organic Milk Supplier Cooperative (OMSCo) and is locally sourced, so you know it is environmentally friendly too.
Adding it to your order is easy - just log into your Creamline account online and either add organic milk as a regular part of your order, or try it as a one-off.
The Soil Association says: "Good things happen when you go organic. This September, make a small change to your everyday shopping and help us make a big difference."
You can even use organic milk in recipes like the Soil Association's roast chicken in milk, an unusual variation on an English classic.
This involves roasting a whole organic chicken in a snug-fitting pot with a full pint of organic milk and flavourings including salt and pepper, cinnamon, sage, garlic and lemon zest.
At the end of the 90-minute cooking time, you're left with delicately soft chicken, with a ready-made gravy that will perfectly accompany mashed potato and spinach as side dishes.
Share This
Related Posts