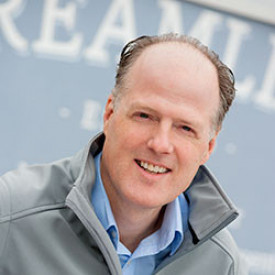 Rob Purvis
How's Creamline changed since you joined the company?
It's grown massively, for a start! When I joined Creamline in 1995, the company was starting out as a small local milkman operation - a hands-on delivery business. Whilst we've grown at least tenfold over the last 20 years - during which time we've acquired many other milk operations - one thing that certainly hasn't changed is our people-centric approach. Though the business is now much more complex, with a popular online ordering and delivery service, we're still very much a family company, which puts our customers at the forefront of everything we do.
Every product we introduce to the range and every innovation we're passionate about is driven by listening to our customers, to understand exactly why, when and how they use our service, so we can make it relevant to their busy lives.
For example, a recent focus group made it clear that supporting local shops, businesses and farmers is something that is very dear to people's hearts. With this in mind we launched our Best of Local range, which champions independent suppliers and helps our customers support local, whilst receiving their chosen items straight to their home, with free next day delivery.
It says a lot that although Creamline is now around eight times bigger in terms of our staff – we've grown from 40 to about 320 – we've retained a family feel to the company and many of the team have been with us for years. We have a fantastic, loyal workforce, who appreciate and reciprocate our family values. Whenever we recruit we look for the same friendly, personable approach which characterises the whole of the team at Creamline – I think it makes a great work environment and, naturally, it's vital when working with customers.
Has your role changed as the business has grown?
I've always been involved with finance and IT as well as business administration. As the business has grown, rounds have increased and our online offering has developed, this has become more complex. We're now processing many tens of thousands of transactions a day which, though very demanding, is manageable thanks to good back office systems. Managing numerous people, large fleets of vehicles, finance, regulations, properties – the scope of my role is vast. However, I have much more help than in the early days – such as a Finance Manager and an Accountant, which helps lighten the load.
What makes you most proud of Creamline?
There aren't many companies prospering in our industry at the moment, so I'm really proud that we're succeeding in a tough sector. I'm also proud of the way our people have grown with the business – everyone's had to step up to big challenges in our periods of growth. It goes without saying that I'm extremely proud of the product and service we deliver. We're selling local, natural products which truly nourish people – it's good stuff!
Looking far into the future, when it's time to retire, what would you like your legacy at Creamline to be?
I'd like Creamline to be recognised as the dairy that reinvented the concept of home delivered produce, making the service relevant to modern life. In terms of figures, we're already the number one convenience delivery service in Greater Manchester – and I like the feeling that the Creamline's a household name, with our fleet of delivery vehicles something of a Manchester institution! Acquiring Dairy Crest's Greater Manchester depot based business was a dream come true for a company that started small but had big ideas. If we can crack the same success further afield, build on the success of the Best of Local range and continue to champion local farmers & businesses by the time I'm ready to lay down my hat – which is no time in the near future! – I'll be extremely happy.
Ready for our quick fire round of questions?
Marmite – love it or hate it? Ambivalent. I know it's supposed to be a love it or loathe it thing, but I can take it or leave it.
Beach holiday or city break? It depends on whether our five kids are with us. If it's just my wife and I, we'd opt for a city break, but with kids in tow, the beach is often the easiest choice. Having said that, we've had a fun city break in London with the whole family.
Best dish you cook? I'm not allowed near the kitchen too often these days as I have a well deserved reputation for being too messy. I cook a great duck glazed in liqueur though, which I'm told is worth the mess!
Lots of the farmers we've talked to say they really appreciate being able to pick up the phone to the boss at Creamline. ...
It's really important to both myself and my business partner Chris that there's a strong connection between all the people involved in our business. We're proud of the local provenance of our milk and with such a short supply chain, great relationships with the people who make it happen are truly at the heart of Creamline. From our farmers and other suppliers to our whole Creamline team – across the offices, the processing and distribution centres and all of our roundspeople – there are no barriers and internally we operate with a really flat structure. We're just as committed to running the business with a friendly, open and communicative ethos as we are to providing a great product and service to our customers.
Is there a charitable cause you feel particularly strongly about?
Yes, we've long been supporters of The Message, a Christian charity that works to improve deprived, inner city areas, including work in schools and helping offenders get their lives back on track after they've served their sentences. It's a great charity that gets a lot of well deserved praise from GM Police and we're very pleased to lend our support, morally and financially.