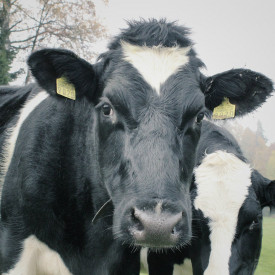 Rob Ford
Farmer Rob Ford and family are based in the scenic Cheshire countryside, a stone's throw from Nantwich at Brindley Hall Farm.
Dedicated to caring for his herd of 275 cows, Rob gives us an insight into life as a dairy farmer, his plans for the future and why he likes working with Creamline.
Everyday life
My family have enjoyed running Brindley Hall Farm for over 40 years now, since 1975, and our values are still the same. Nowadays my wife, my daughter and I take care of the 275 cows on the farm - along with three dedicated members of staff who give a helping hand! With over 300 acres of land on the farm, everyone gets stuck in.
Life as a farmer isn't always simple – working in all elements can sometimes be a challenge! Being out in the open countryside more than makes up for it though, as well as being able to spend your days working with animals.
All in all, we produce 2 million litres of milk a year – and it's really good to know that Creamline are helping to keep the food miles down, supplying locally across the region.
Creamline and future plans
We teamed up with Creamline in July 2017, and I have thoroughly enjoyed the partnership so far. The staff there are always friendly and easy to talk to – especially the drivers who come to collect the milk! It's fantastic to work with another local company, who share your values and are keen to support local farmers.
As for what the future holds, it's time to start thinking about passing the farm on to the next generation. My daughter is getting married later this year, so I'm very much looking forward to seeing her come into her own and taking on leadership of Brindley Hall.