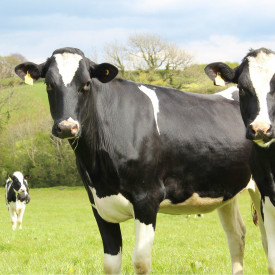 Nigel Harper
Alumbrook Farm is home to Nigel Harper, who not only tends to his herd of dairy cows but also uses his land as part of his agricultural contracting business. We caught up with Nigel to find out more about the two sides of the business and why he always wanted to own a herd of his own.
A new venture
Having worked on a family farm for many years, it's always been a dream of mine to own my own herd of cows – which has become a reality in recent years.
What started off as quite a small herd is now growing, and I added 170 cows to the farm last year, so it's exciting times for the business – reaching a herd of 230 cows so far, with the possibility of growing the number further.  
The team on the farm   
I work alongside a team of 12 people, with 10 usually working on the arable side of things and two people dedicated to looking after the cows – but we all help each other, so whatever jobs need doing are covered by the whole team.
I've always enjoyed looking after cows, so it's great to be able to experience both sides of farming day to day.
Working with Creamline
It seemed like an obvious choice to work with Creamline. I like the way they work – from taking the time out to talk to their farmers face to face, to how much importance they place on supporting local producers and communities.